What is the Inclusivity Assessment Tool?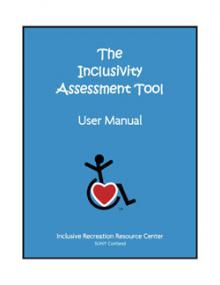 The Inclusivity Assessment Tool is designed to be used by trained assessors who have completed Inclusion U. The tool has been rigorously designed to capture valid, reliable, and necessary information about the inclusivity of a recreation agency or program. 
The Inclusivity Assessment Tool describes the physical aspects of a recreation agency, as well as the administrative and program practices that promote inclusion.
The purpose of the Inclusivity Assessment Tool is to gather information about recreation opportunities that is then shared on the IRRC searchable online recreation database.  The information collected with the tool is descriptive, functional, and detailed, so that users of recreation programs, areas, and facilities can make better plans for inclusive recreation.
Downloadable forms can be found here.
Can I use the Inclusivity Assessment Tool?
You must be trained to use the Inclusivity Assessment Tool. Trained assessors, called CIAs (Certified Inclusivity Assessors) utilize the Inclusivity Assessment Tool to do physical measurements, observation, and interviews at recreation agencies and programs. After an assessment is completed, the CIA submits the results to the IRRC online in the recreation database.
How do I become a Certified Inclusivity Assessor (CIA)?
Complete Inclusion U Online
Pass the final exam and become a CIA
Once you are a CIA, you can access the Inclusivity Assessment Tool and other resources on the IRRC website
Go assess a recreation site
Add your assessment to the ever growing online recreation database!
Useful Measurements from the Inclusivity Assessment Tool and Checklists